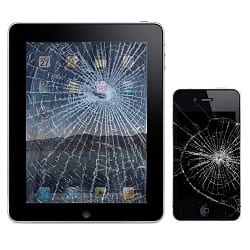 Yes, it is possible to repair iPhones and iPads properly and reliably!
IT Services Gold Coast offer professional repair services for all iPhone and iPad models.
This includes iPhone 4, 4S, 5, 5S, 6, 6S and of course the new iPhone 7 and iPhone 7 Plus.
We specialise in iPad Glass and LCD Replacement. We use custom designed equipment allowing us to repair iPads properly, to a very high standard. This also means we are able to repair the latest models such as the iPad Air 2, iPad Pro, iPad mini 3, and iPad mini 4.
Competitive pricing on iPhone and iPad Repairs
As Apple devices are not designed to be opened (the screens are in fact glued on!), the process can be quite time consuming & at many stores, quite costly. Not only do we repair your Apple devices to a very high standard, we do it at very competitive prices.
Here are the services we offer:
iPad, iPod, and iPhone screen replacement (Yes! We do iPhone 7 & iPhone 7 Plus screen replacement)
iPad glass replacement (iPad 2, 3, 4, iPad Air 1 and iPad Air 2, iPad Pro and all iPad mini models)
iPad, iPod, and iPhone battery replacement
iPhone liquid damage repairs
iPhone, iPod, and iPad repairs including replacement of faulty or damaged components including
We also offer an iPhone and iPad postal repair service at no extra charge, so if you are located interstate please contact us for more details.
Although we try to keep our prices competitive on the Gold Coast, pricing does change from time to time. Please contact us directly for pricing on (07) 5679 5502, or shoot us a quick email by clicking here.
We are currently updating the news blog and will be adding more tutorials for do it yourselfers soon. If you would like to see how an iPad 2 looks on the inside or want to try replacing the glass yourself, check out our DIY iPad 2 Glass Replacement for Dummies guide!